With the weather here in the south hopefully cooling down soon. We will emerge form our air conditioned cocoons and head for the outdoors. Love our Spring and Fall! We try to camp in the backyard once a year if we can. The crispness in the air, the sounds of the crickets, fireflies twinkling and the dewy feeling you have on your face when the sun is just waking. It has been a year or two since we have due to the arrival of number four. Yet with her headed towards two the prospect of doing things like camping (even if just in the backyard) are in sight. Which got me to thinking about other cool places to sleep under the stars! I found some amazing spaces that I am so excited to share with you.
Amangiri in Canyon Point, Southern Utah
- Amangiri which means Peaceful Mountain is located close to the border of Arizona about 25 minutes to
Page, AZ
. The resort is tucked into a protected valley with sweeping views over colourful, stratified rock towards the Grand Staircase –
Escalante National Monument
. It has been designed to blend into the landscape with natural hues, materials and textures a feature of the design. Many of their suites offer some type of outdoor bed in which you can sleep the night away. I have never been truly pulled towards this type of landscape but come thing about this resort is calling my name. To read a detail overview of Amangiri click here -
Amangiri Overview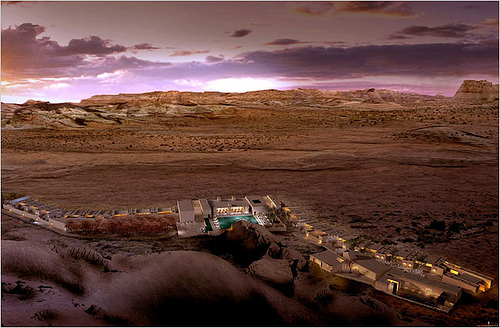 AKA Central Park in New York City
-
These expansive, light-filled one-bedroom Penthouses of nearly 900 square feet are located on the private 17th floor. The meticulously designed custom interiors create a relaxing, zen-like atmosphere. Complete with mini-kitchen, luxurious one and one half bathrooms is clad in limestone with the master bath featuring a spa shower fit for two, with an invigorating rain-shower head as well as a chill-chasing steam shower. Further, the exclusive apartments are surrounded by spectacular 1500 square foot wraparound terraces with metal clad wood burning fireplaces, lounging and dining areas, and breathtaking city views in three directions. This outdoor sleeping space might not be the quietest around but certainly pretty cool!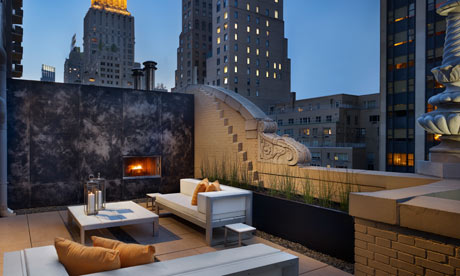 L'Albereta Resort in Franciacorta, on Lake Iseo, province of Brescia, Italy
- A charming 5star resort that is in the style of a fabulous Italian Villa (Oh, wait it is an Italian Villa) is also a
Relais & Chateaux
property. Less than hour from Milan you can sleep in serious luxury under the stellas (stars in Italian). The
Cabriolet Suite
has a roof that can slide away with the click of a button ~ talking about bringing the outdoors in!

Affinia Gardens, located on the Upper East Side of Manhattan - While you may not be sleeping literally under the stars at Affinia Gardens they give you that outdoor feeling as an option before you crawl into your cozy interior bed OR rent a TENT for the family from Affinia's Terrace Menu. Affinia features a new terrace menu enticing guests to kick back and relax, eat and play outside in Private Garden Terrace Suites on the first floor of the hotel.

Each terrace features more than 600 square feet of space, including brick patio, cast iron table with four chairs, and fence, providing a comfortable, and private, outdoor space. Inside, guests will enjoy accommodations bigger than many New York City apartments at more than 1,000 square feet, including fully equipped kitchens! The á la carte terrace menu is available weather permitting and includes:

S'mores-making kit for a late night snack starting at $25 per kit
Tents and flashlights for families with children starting at $35 per day
Breakfast or picnic lunch bags starting at $19.95 per bagged meal
Romantic dinners Beer or wine tasting.
Sunscreen and towels for sunbathing, free!
Seasonal items to decorate during the holidays such as the Fourth of July starting at $50 per kit






Another Affinia Property -

Affinia Chicago - Inside Out Suite

- Affinia Chicago is offering an over-the-top new "room" on the rooftop for guests who want a bird's eye view of the Windy City.

The new Inside Out Suite includes private access to the 29th floor (over 1,800

square feet of space), a spacious suite indoors,

a king-size bed outside at

C-View

(the hotel's outdoor rooftop lounge is

all yours for the night), private butler, and private security.

Package includes:

Private, customized dining experience on the roof designed for you by Executive Chef Nicole Pederson from C-House
Bottle of champagne
Private outdoor movie screening with Late night snacks
Breakfast in bed (inside or out) from C-House
Kid's Camp Out Package ~ Summer has arrived and school is wrapping up. To celebrate, Kimpton's Lorien Hotel & Spa is offering a special "Kids Camp-Out" Package that allows children and parents alike to enjoy all of the fun of camping within the comfort of a stylish four-star hotel. Kids can enjoy "roughing it" on the Lorien Hotel & Spa's terraces, overlooking Old Town Alexandria, VA in complimentary tents and comfortable sleeping bags provided by the hotel, while parents enjoy solitude of their own inside. Other fun amenities include:
Battery operated lanterns and flashlights, perfect for telling ghost stories
Telescope, constellation map and compass for examining and mapping the stars
Board Games & a DVD library of camp-themed movies, such as The Parent Trap, available from the front desk upon request
Specialty "Kids Camp" room service menu, featuring kid-friendly favorites such as hot dogs, sliders, PB & J sandwiches, s'mores, "bug juice," popcorn, and more
While the children are holding sing-a-longs and gazing at the stars outside, parents can kick back and relax with a complimentary bottle of wine in the Lorien's spacious guest rooms.
More Fresh Air Retreats to Come